"Ideas Into Income....The Right Way."
January 21-22, 2005, 9AM-2PM,
at
Anheuser Busch Hall (Law School)
Washington Univ. in St. Louis,
St. Louis, MO
See the superstar speakers for this great inventor conference, one of the country's very best. For 2005 this promises to be the nation's top Inventors' Conference.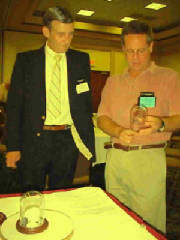 Registration Form for Attendees
Only $50 including a 10 hour program over 2 days or $35 for one day.
Featuring Donald Weder (America's most prolific inventor) , Joe Hosteny (America's best known contingent fee patent litigator), officials from the US Patent & Trademark Office, 5 local patent attorneys, 1 copyright and trademark attorney, 4 successful inventors, a financial expert, a marketing expert, 2 patent librarians, a patent searching expert, 3 corporate presidents, 2 law school professors, special awards, prizes and more.